Ricoh IM C4500 in a nutshell
The Ricoh IM C4500 is a faster, more powerful version of the Ricoh IM C3000. Outstanding Reliability, Quality and workplace productivity form the basis of the IM C4500. This is a 45 page per minute, high-end Multifunction Printer and by far our most popular unit. The large "Ricoh specific", android touch screen enables enhanced printing and scanning of documents while remaining easy to use. As with everything Kopikat, the quality and technology in the background allow us to keep it simple.
Multifunction Printer Usability
At the heart of the Ricoh IM C4500 is a powerful, easy to use "touch and swipe" colour Smart Operation Panel that makes mobile and flexible working simple. This all amounts to a more productive workflow for your team. What appears on this panel can be tailored to the individual preferences of users, with immediate access to the most commonly used print, copy and scan functions through one-touch icons. Moving forward, file sharing platforms such as Dropbox, Box, G-Suite, SharePoint and individual case management systems can be seamlessly linked.
45 pages per minute
Full color (LTR) & Black & White
5 Years Warranty
3-5 Years Optional Lease-Purchase
Multifunction Printer Functionalities
Ricoh IM C4500  features Ricoh's new 10.1" Smart Operation Panel and is print, copy (45ppm) and scan enabled. Fax is an option. This SP version is supplied with an Automatic Reverse Document Feeder (ARDF) via which 100 originals can be fed in a single batch and scanned at a speed of 80 images per minute. Other functional options include Kopikat Shareflow OCR scanning.
Multifunction Printer Speed
The Ricoh IM C4500 uses Ricoh's GWNX controller, with its superfast 1.6GHz Intel processor to manage the workflow. To save time, a Human Detection Sensor wakes the MFP instantly from sleep mode – it takes less than 1 second – and the Smart Operation Panel lights up when touched, allowing the user to select applications and settings.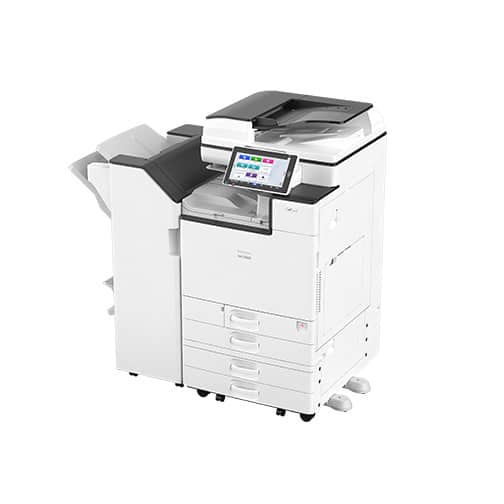 Multifunction Printer Software
The new Intuitive User Interface simplifies operation and Ricoh's Smart Device Connector app improves mobility by enabling users to interact with the MFP using their smart phones and tablets. This MFP also supports the use of optional workflow solutions, such as Ricoh's StreamLine NX and GlobalScan NX.
Why this Multifunction Printer is for you
The greatest assets to a business are those which perform consistently all year round and the Ricoh A3 range is no different. Running quietly in the background, it comfortably handles all your office needs; printing and copying in colour, organizing document sets, scanning and distributing information and processing fax messages. The advanced MFPs share a common platform and with a range that includes 30, 35, 45, 55 and 60ppm models. Each one a workhorse in its own right, the only thing up for discussion is how fast you need to be.
We endeavour to beat any like for like quote provided to you by our competitors.
Kopikat is a registered Ricoh dealer.