Ricoh IM C300 in a nutshell
In a nutshell, for the money and size the IM C300 is a powerhouse of a multi function printer. It may look like the baby of the Kopikat family but it's 10.1″ Ricoh Android Smart Touch Panel runs on the same engine as the IM C3000 and it's bigger brothers. This Multifunction Printer is the most advanced A4 multi-function printer on the market anywhere in the world.
A Multifunction Printer for a small workload
The IM C300 is an ideal unit for between 3 and 5 users with a small workload (2000 – 3000 impressions per month), the IM C300 punches way above its weight. It offers users great value for money, and the same Smart Operation Panel and android user interface found on our most popular A3 devices. With the ability to connect to cloud-based solutions and integrate with existing software investments, these units will make a big impression. Plus, with eco-friendly features and security options, users can uphold their commitment to the environment and ensure their data and document integrity stay protected.
30 pages per minute
Full color (LTR) & Black & White
5 Years Warranty
3-5 Years Optional Lease-Purchase
Multifunction Printer Functionalities
The Automatic Duplex Document Feeder (ARDF), is a convoluted way of saying that it can automatically scan double sided pages (at a rate of 50ppm!) With the onset of GDPR and other regulations regarding data protection, this A4 powerhouse's ability to scan to folder, email and cloud brings just the kind of future proofing that is needed for your business
Ricoh IM C300 Paper Capacity
While the machine's paper capacity already sits at 250 pages, extra drawers can be added to quadruple capacity. It will not take up floor space, be noisy or intrusive. The Ricoh IM C300 can sit on a desktop or use its own cabinet.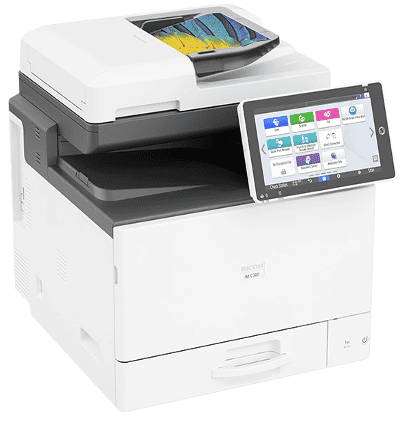 Multifunction Printer Software
The new Intuitive User Interface simplifies operation and Ricoh's Smart Device Connector app improves mobility by enabling users to interact with the Multifunction Printer using their smart phones and tablets. This Multifunction Printer also supports the use of optional workflow solutions, such as Ricoh's StreamLine NX, GlobalScan NX and Hotspot Enterprise.
We endeavour to beat any like for like quote provided to you by our competitors.
Kopikat is a registered Ricoh dealer.